Google Adwords account management
Only $175.00 / month
Google the world renowned company provides many services to the millions of internet users from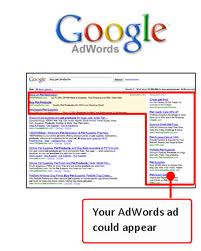 around the world including their famous product Google Search Engine. Out of many other services Google also provides a service known as Google Adwords. What is it? It is a service provided by Google that lets you create and run ads for your business quickly and simply. Adwords ads are displayed along with search results when a particular user searches Google using one of your keywords. Ads appear under Sponsored links in the search result page. You can choose from a variety of ad formats, including text, image, and video ads, and easily track your ad performance using the reports available in your account. Getting more customers for your business, reach online users searching for information about your products and services, and easy control of cost are the benefits of Adwords.
If you have a new website which is not ranking well or if you need to increase your sites current traffic a Google AdWords management may provide the solution. It is a great way to quickly drive qualified traffic to your website. Adwords ads are context-driven, which means that your ads will display only when a particular user or visitor or customer uses your selected search phrases in the Google search. Your ads can also be displayed when a partner website with related content displays your ads. Therefore, you pay a fee only when a potential new customer is sent to your site.
We are a fast growing Google Adwords account management organization committed to provide the best results and best customer service possible for online marketing. With years of experience in marketing campaigns management, we have the knowledge and expertise to show you how to get the most return from your investment. We research on targeted keywords and phrases that are suitable for your Adwords campaign. We manage all aspects of your Google Adwords account point you to a more profitable direction. The keywords should describe what you offer. Your ads will be displayed to the targeted audience on Google and other related sites. When selecting a particular keyword phrase, it is advisable to put yourself in the place of your targeted customers, and to think of keywords that they will be likely to search for. After the Google campaign has been running for a short period of time, it will be clear that which of the chosen keywords is actually being used most often in searches. Therefore, with Google Adwords, we create your ads and choose keywords to tell Google where to show your ads and you pay Google only when someone clicks on an ad.
We maximize your adwords campaign's potential return on investment; monitor your Google Adwords campaign and analyze them; provide reports and statistics on your adwords campaign performance; offer adwords consultancy and advices; create effective keywords and determine the maximum price per click for each keyword. These are the services you as our online customer will be getting from us.